Jeff hears from a lot of riders who need to get their handlebars higher in order to be comfortable on their bikes, and while his framesets make that easy, many riders are installing H-Bars on other brands of bikes with low headtubes that make it very difficult to get the handlebars high-enough.  For them, for riders of Jones bikes who just want a simple, clean way to get their handlebars extra-high, and for everyone else who's looking to raise their bar, we have the new  SG 2.5 Aluminum Loop H-Bar!
Are you wondering if it's safe to install a steerer tube extender on a steerer tube extender?  Get this H-Bar and you won't need to find out!  For a long time, the majority of bikes have been designed with racing as their main inspiration, and the short headtubes and low front-ends that result leave most riders struggling to get their handlebars high enough to actually be comfortable.  With the equivalent rise of a standard H-Bar with 2 inches of spacers underneath the stem, the SG 2.5 Loop H-Bar lets you get your handlebars into a comfortable position without resorting to extreme measures!  The SG 2.5 Aluminum Loop H-Bar is essentially an SG Aluminum Loop H-Bar with 2.5″ of rise compared to the standard .5″ of rise on all of the other H-Bars, so it maintains the wide range of comfortable positions for which they are known.  All in all, it's a fantastically comfortable bar, and we're very excited to have the option available!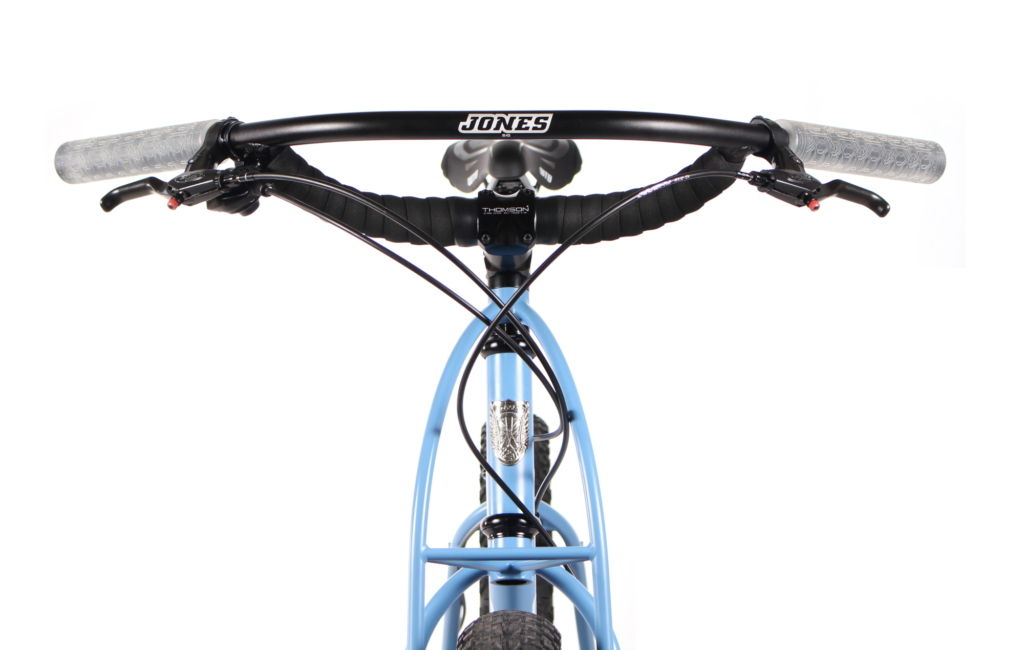 The SG 2.5 Loop H-Bar shares the same comfortable 45 degree sweep, black or silver colors options, 660mm or 710mm widths, 31.8mm clamp diameter, and standard 22.2mm grip area diameter for flat bar/mountain bike controls with the rest of the Aluminum H-Bars.
The SG 2.5 Aluminum Loop H-Bars are available now for pre-order, so head over to our online store to order yours today, but don't forget to get a pair of the longer grips that we offer while you're there: longer grips like the Kraton H-Grips are key to getting the full range of hand positions, and therefore comfort, from any of the H-Bars!