OK, we often get messages from customers. They seem to like what I'm doing. How I see cycling. And we get reviews too, sometimes from large established publications and sometimes from smaller outfits. I've collected a few here that I've seen recently. Tests and mentions and customer comments…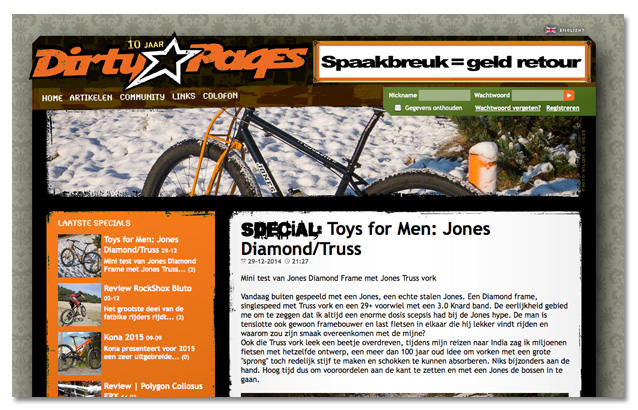 Firstly a mention on Dirty Pages. If your dutch is good you can read the original article although the google translate version (into english) is (a little) easier.
---
Then, over at bikepackersmagazine my H-bars get a mention — "But perhaps there is one piece above all that I`d save the first if my bike bursts amid napalm air strikes while playing the "Ride of the Valkiries". My leaderdog, the Lieutenant Colonel of my squadron is my handlebar: The 710 Loop H-Bar from Jeff Jones."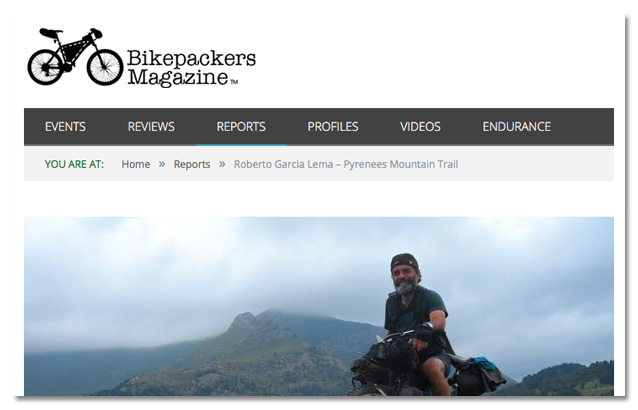 The full story is all about Roberto Garcia Lema and his bikepacking adventures. Particularly a recent trip on the Pyrenees Mountain Trail. The full interview is available.
---
Jelle at JustPedal in the Netherlands has written a 'full review' of the Jones Plus test bike he has…

Time for a short review of the Jones Plus 25″ top tube bike I have here to try and test. When Biff, the Euro distributor of Jones Bikes told me Jeff was working on some longer models, not just for mountain biking, but also for bike packing and off road touring, I was quite excited. Finally Jeff was working on a bike that would fit my taller body. Biff told me the frames were not designed for taller people only, as Jeff was riding the longer top tube bikes himself. A bonus was the fact that the frames would be ready for the 29 plus size tires, introduced by Surly some years ago for their already legendary Krampus. I have a personal preference for high volume tires, and riding the Krampus for the past 2 years confirmed the 29 plus tires are the best compromise between comfort and fast rolling. No going back for me here.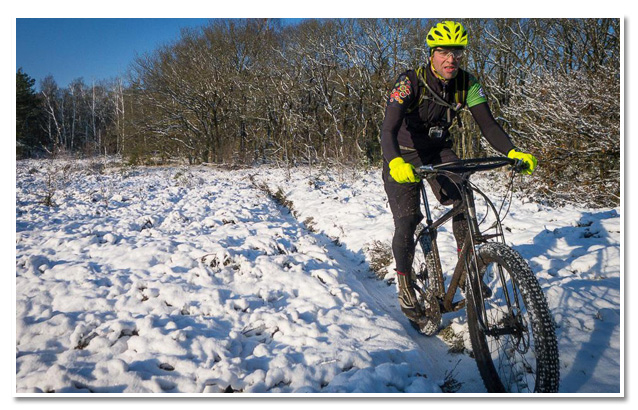 The new frame is quite different from the existing 23 inch model. Jeff has been working on frames with longer chain stays/wheelbase for quite some years, as he believes a nimble handling bikes does not necessarily need short chain stays and short wheelbase. He has been tuning the Plus geometry for years, and the result is surprising. When I first build the bike it looked huge. I have been riding a Krampus for quite some time, and recently used a Surly Ice Cream Truck quite a lot, but still the Jones is big! I build the bike with the setback post and a 110mm Thomson stem.
My position on the bike is the first big difference with the Krampus. The high front gives me a more upright position, the slacker seat tube in combination with the setback post puts me more to the back of the bike. The long seat post extension, in combination with setback post and 71 seat tube gives me enough workspace, without the bike feeling short.
My first ride was an eye opener. I was skeptic when I first saw the bike, not sure what to think of the long wheelbase. As, like all of you, I have seen Jeff riding his bikes on his mountain in Oregon, I knew the bike would be special, but as a true Dutchie I had to feel and try before I would believe. In short (as I told one of the guys on our ride last week): I am a believer now.
I have never ridden a mountain bike handling like this bike does. Going down fast feels so stable, never felt something like that before. After riding the Plus I now know I had to work more on the Krampus to keep my line, the amazing slack front with huge 76mm fork offset works like a dream, no working to get the bike into the next corner. The long wheelbase works great on our Dutch singletrails, I have no indication the long wheelbase and longer rear works against me on the trails I ride most. And just that was the thing worrying me most. Now I know it just works, I can see how and feel how the slightly longer rear is an advantage. The first time I climbed some loose sandy climbs on the Krampus I was surprised by the amount of traction, the Jones Plus is even better climbing the loose and steep stuff, giving more and longer traction when climbing out of the saddle.
So quick handling, super stable, great climber. That's it? Nope. The best thing is it flies. It just wants to fly. I love hitting the bumps on and beside the trails to get some air, to bunny hop fallen trees, just to ride active. And that is so much fun with this bike. Amazing how Jeff did it, but he did.
So, for now I try to get in as much riding on the bike as I can, have people try the bike as long as it is here, and then get my own (for everybody to try) as soon as possible.
I know as a seller of the bike my opinion may be a little biased, but I have the original Jones 29 and soon the Plus 25 in my shop for you to try on our Dutch trails, so let me know if you want to!
Jelle can be contacted at Singlespeed Central (Just Pedal)
---
And last but by no means least, Jeff in Texas sent me this…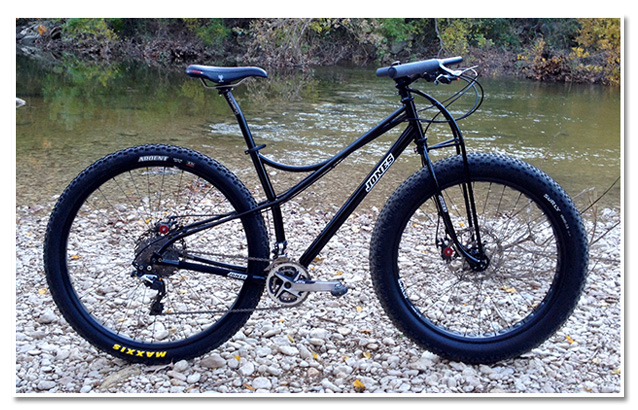 Hi Jeff and Sheila, my bike arrived Wednesday night. I promptly unpacked and assembled the bike. And of course freaked out. I'm a graphic designer. I design products, brands, websites, etc. Really I design experiences. So I'm always impressed when people get the "experience" right. From the time I sat down and had my first discussion with Jeff, I felt like I was in for something special. But I had no idea just how special. Before I even rode the bike, I just sat there and looked at it. My wife commented on how it was so beautiful. She asked if I was really going to go mountain biking on it. Honestly, I was amazed by the design of the Spaceframe but wasn't ready for just how beautiful it really is. Then I rode it. At night. Just in my neighborhood around the block. I immediately felt like it was the most comfortable bike I have ever been on. I was trying to figure out why? It just feels so damn perfect. I was dying to get in a short mountain bike ride before we left to go camping for the weekend, so I snuck out late Friday afternoon. I was totally surprised by how comfortable it is with 7psi in the fat front tire. I was expecting it to be a bit rougher of a ride. The Greenbelt in Austin, Texas has rock ledges, rock gardens, and some super technical terrain. I was freaking out by how this bike handled some of the more challenging areas. I felt confident on my first ride on this bike and I'll only get to know it better. I even cleared some sections that usually give me trouble. The two things that stuck out the most were how easy it was to tackle switchbacks. The turning radius is just amazing. And second, how easily this bike climbs. I was shocked by how light the bike is. I guess I expected it to be heavier. But it's the way you sit in this bike that makes it climb like a dream. And I love climbing while standing and grabbing (almost pushing off) the loop bars. My initial impression of just one 1:30 ride is damn! This bike is unreal. I feel like it's just more fun to be "riding" a bike again rather than just rolling over stuff on my full suspension bike. I have a feeling the Jones will be my go to bike. For everything. I'll be sure to share some pics and more feedback. But had to write back and say I'm kind of freaking out! Thanks for creating such an amazing bike! One more than super happy customer!!!
A week later..
Finally scored a three hour trail ride. Muddy. Wet. Lots of creek crossings. Lots of steep rocky climbs and descents. Rode with two guys on super light 29ers. I had no problems keeping up. Tons of confidence on this amazing bike even in the most technical terrain. Man, this bike is really something special.
---
So, there we have it, the new Plus, the H-bar and the 'standard' Jones 29.
Well worth a test ride if you get the chance.