We have two announcements that we hope will make it easier for everyone to get on a Jones bike!
Some of the most common questions we get revolve around sizing, and for a while we've been tossing different ideas around as potential solutions.  In the end, we've decided that this is another one of those instances where the simple solution is the best solution, so that's the one we've chosen!  From now on, we'll be referring to our frames in two ways: the ETT (Effective Top Tube) measurement that we've been using all along, and a relative size designation that applies across all of our framesets (Jones Small, Medium, and Large).  To help separate our relative sizes from those of other manufacturers, we're calling them Jones sizes.  So from now on you'll see the 23″ Jones 29 frame referred to as 23″ (Jones Medium, or Jones M), and we hope that will make the transition to talking about a Jones Plus easier, because we can then just move over to talking at the 24″ (Jones M) Plus, and know that we're talking about the same size across the two models.  We've been hesitant to take the Small, Medium, Large approach in the past for many reasons, but the main one is that if someone hears "medium", they might think about the way most bikes are sized, which just doesn't carry-over to Jones Bikes.  Take the 25″ (Jones Large) Jones Plus, for example: this frame fits a much wider range than most other "large" frames, and many of the riders who would work well on it might be used to riding XL or even XXL frames!  The same thing holds true and the other end of the spectrum with the Jones 23″ Spaceframe Plus 148 TA, which will fit many riders who might be used to riding an XS or XXS bike.
We hope that this sizing will make everything easier for you and for us, because we want make it as easy as possible to get the right size bike so we can all spend more time riding, and less time wondering what we size we need!
The takeaway is the these are just the relative sizes within our line, and they're there to help everyone be clear on what size they should ride across it.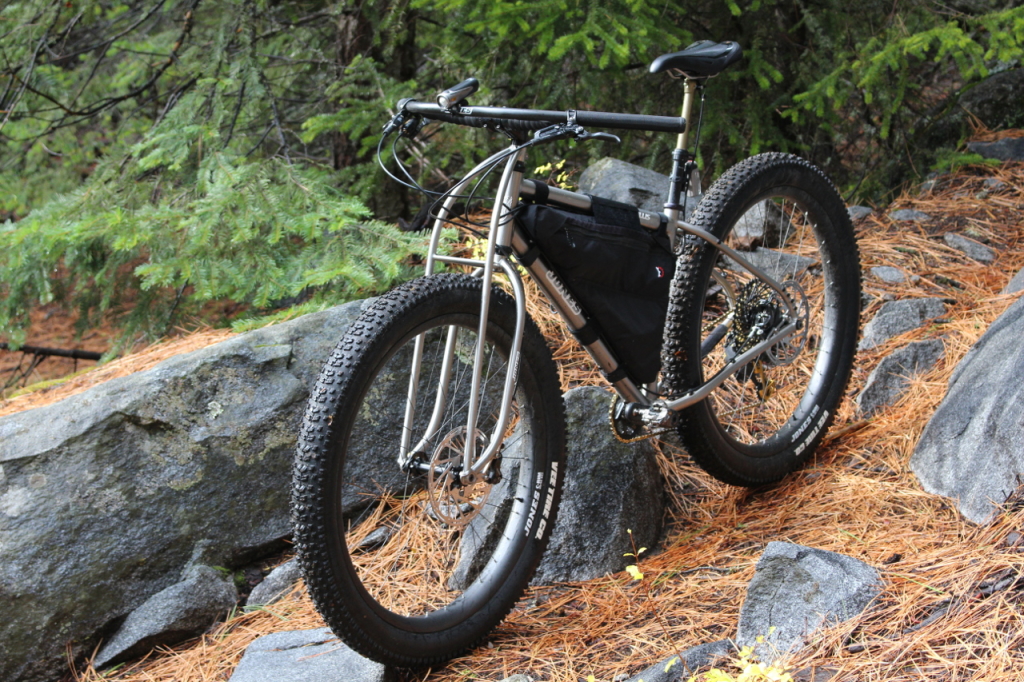 And now, in keeping with the theme of new things, we're excited to announce that we'll be having our first sale ever!
As the year comes to a close, we have been going through our inventory, and in that process we've some framesets and parts that we have decided to put on sale.  We wanted to let everyone on our mailing list know first, so you are the first to know!
All of the framesets are available online as framesets, but if you'd like a rolling chassis or a complete bike, just let us know!
Among the new sale items will be the Jones Plus 135 frames, which are available in the 24″ ( Jones M) size in Brown or Black.
We're also excited to be able to offer the Jones 29 steel Diamond frames paired with either Steel or Titanium Truss forks!  These are also the Jones Medium size.  There are very few of these, and we have them with or without rear rack mounts (while they last, of course!).
If you've been pining after a Jones 29 Steel Spaceframe with Steel Truss fork (Jones M), this would be a great time to get one, because they are also on sale, and there are only a few left!
You'll need a front hub for those framesets, and we're putting those on sale too to keep things simple.  The Jones 29 frames need the Jones 135-F, and the Jones Plus 135 frames need the Jones 135/142-F front hub.
We will be adding products to the sale page as we go, so check it out to see everything!
-The Jones Team