Our Interbike post needed to be broken into two parts because the drive and the show are such stories in themselves, but we also want to show you what we're working on, and what we brought to Interbike.  Jeff has been hard at work on his quest to make bicycles that will help everyone enjoy riding even more, and I'll go over the current results of that effort here.  We have two completely new models we're working on, and two that will get more minor updates, in addition to some small, but important parts.
We are really excited about the 29 plus-sized tires, and want more riders to be able to experience their benefits, and more specifically, the Jones Plus Geometry that uses them to their best advantage.  Jeff has gone off the beaten path with his Plus Geometry, and all it takes is one ride on these bikes to notice what an inspired ride it gives.
The only problem up to this point has been that the bikes were too large for smaller riders, which is why we're very excited to be working on a 23″ Steel Spaceframe Plus!  The Spaceframe gives maximum standover, and because of some modifications to the basic design, this frame actually has more standover clearance than a standard Jones Spaceframe 29er!  The top tube measurement is the same as the 29er, but it's effectively shorter because of the slacker 71 degree seat tube angle which is shares with the rest of the Plus bikes.  This will be a great option for smaller riders, as well as riders who want a more playful Plus.
It's hard to decide what we're most excited to bring into production first because the next new bike we're working on is a 24 and 25″ Titanium Plus.  Jeff has wanted to do this since he first started designing the Plus bikes, but given the higher cost, he decided that steel would be the best place to start because it's so much more accessible to more people.  The Plus bikes have been very popular, and we've had requests for a titanium version, so we're going to make one, and we can't wait to have them in stock!  The 24″ prototype that Jeff is riding feels amazingly light and nimble, and clearly has the wonderful snap that good titanium bikes tend to have.  The steel version feels as great as it always has, and will still be one of our favorite bikes, but one ride on the titanium version will have all of us re-thinking our ideas of how Plus bikes feel.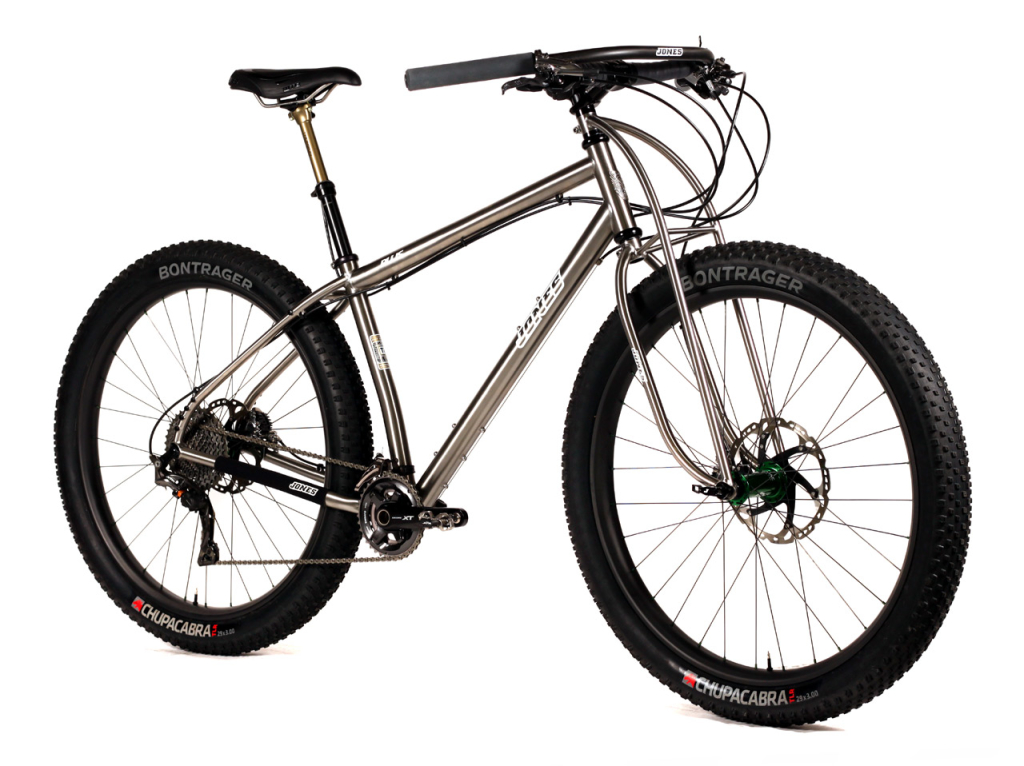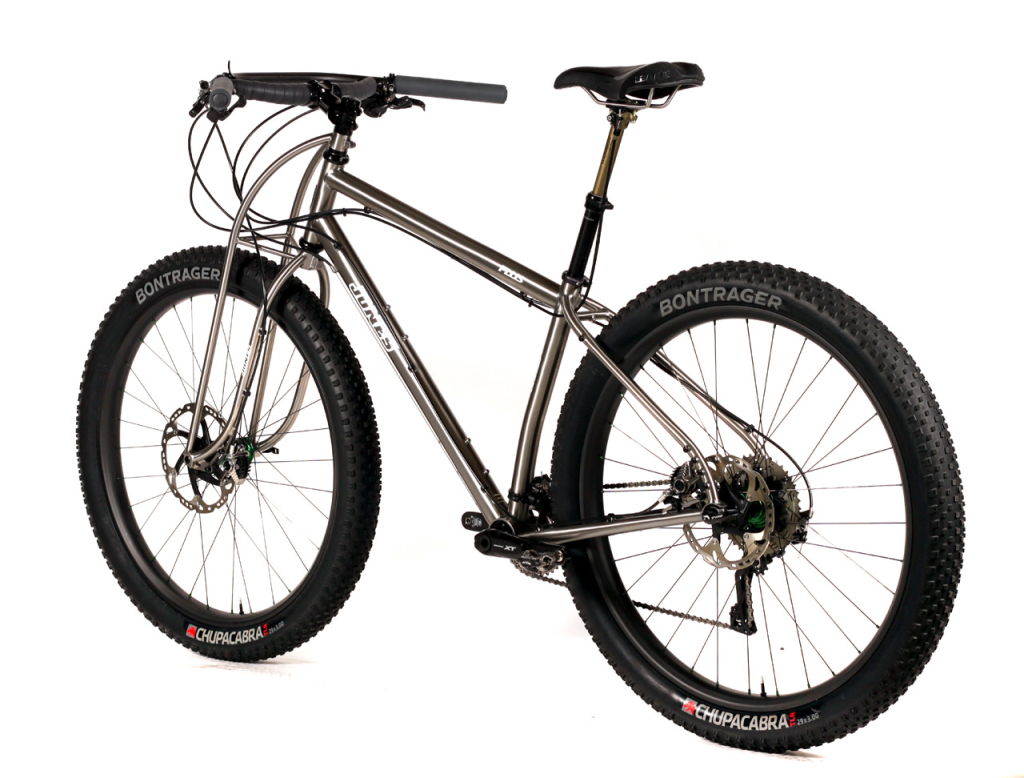 Last in the Plus category comes the update to our 24 and 25″ Steel Plus models.  The changes to these models carry over to the titanium versions as well.  There will be three water bottle bosses underneath the down tube to mount a triple-bolt cage such as the Salsa Anything Cage for extra storage capacity.  There will be rack strut bosses on the upper portion of the seat stays because as much as we like P-clamps for the upper rack struts, bosses clean up the installation, and we've found that many riders want to mount rear racks to their Plus bikes.  And finally, we're going to a 148×12 mm thru axle (also known as Boost) in the rear.   By moving both the chainrings and the cassette outward by 3mm, Boost gives us the extra clearance we need to fit the new 11 speed drivetrains with even the largest tires.  We've seen a gradual increase in size of the tires available for 29 plus bikes over the last year, and especially when combined with the new 11 speed drivetrains that move the cassette inward, we wanted to find a way to increase clearance, and this is a good option.  It looks like Boost is here to stay, and we're starting to see more hubs become available, so riders won't be limited to one or two–very expensive–options, making it a good time to go that route.  The Boost rear end will be stock on all of the new Plus models, including the 23″ Spaceframe, and all of the Plus framesets will continue with the 142×15 mm thru-axle up front.
The last change frameset that will be getting a change is the Titanium Diamond 29er.  This has been a really popular bike for all sorts of riding–it makes a great allroad bike, a fantastic mountain bike, and everything in between–and we're really happy to be able to keep offering it to riders in the future.  It will be moving to 142×15 mm front, and 142×12 mm rear thru axles, just like the Thru-axle Titanium Spaceframe 29er.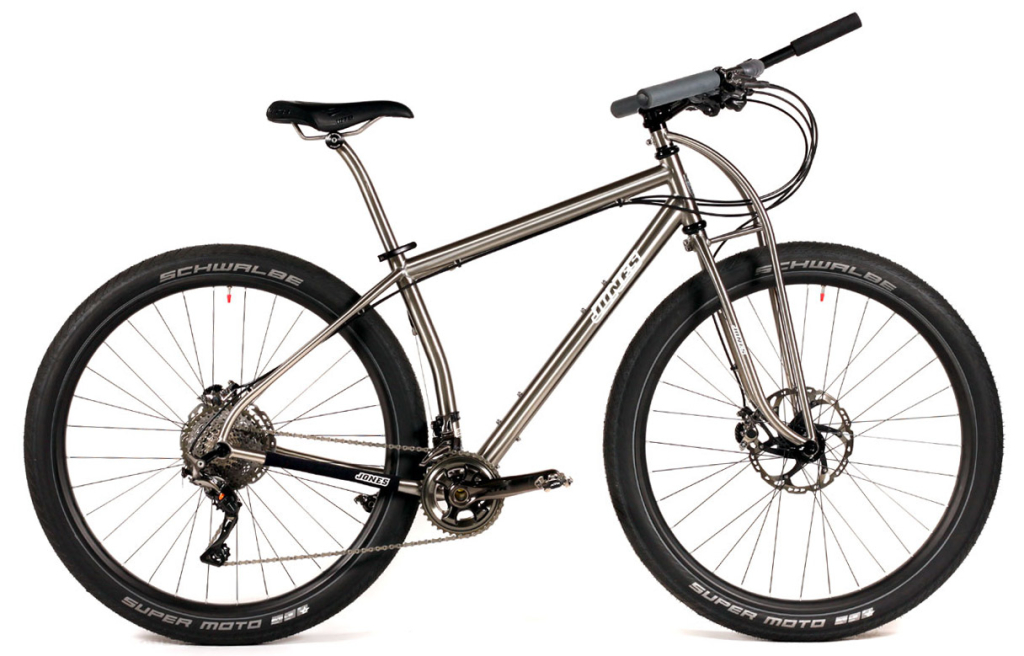 We want to get these new framesets in stock as soon as possible, but still have testing to do, and there will surely be some modifications to the current prototypes, so we probably won't start seeing any of them for at least 6 months.  That said, we would be interested to know what you would like to see first, because we probably won't be able to make them all available at the same time, and we'd like to know what to put as our first priority.  For the time being, we do still have the current–very capable–quick release models in stock and ready to go.
We also are working on two new parts that we will have available soon: a new foam grip that will be less than half the weight of a comparable ESI Silicone grip (what we usually use, and still like very much), as well as being less expensive!  They will be 55 durometer EVA foam, in lengths to fit the Jones H-bars, and will include special bar end plugs to help protect the ends of the grip.
The next item is something that we've been looking into for a while, and for which we've had many requests, so we were pretty excited to finally find something that appears to work.  We've code-named it the Gnarwal, and it's a single handlebar extension that mounts to the center of the loop portion of the Jones Loop H-bars to give you a solid grip with the ability to steer easily and securely while riding in the aero position.  Compared to a traditional aero-bar, the Gnarwal is very small and won't get in the way at all.  It doesn't eliminate any of the other positions on the bar, and while it might not be for everyone, those of you who are using the bars on long gravel rides, while racing the Great Divide, or another similar event, will find it extremely useful.  We'll be riding it and trying to find its weak spots, but we hope to have them and the new grips available on our store soon!
Lastly,  we already have some new products that we think will be very popular: the first is a bag of Plastic 5 x .8mm Replacement Bolts, for filling unused water bottle and rack bosses (sold in bags of 8).  They save a lot of weight, weighing about .3 grams a piece, versus the 3.4 grams of a stainless bolt, and are available in our store.  That means that for a set of 4, you save 10.5 grams (.38 ounces)!  But don't go attaching anything to anything else with them!  They're only for filling holes!  If you need some more bolts to hold a water bottle cage or a fender on, we now have our Stainless Steel Water Bottle/Rack Bolts in the store!  They have a captured washer, so it'll always be where you need it, and they use a 4mm hex wrench to tighten them.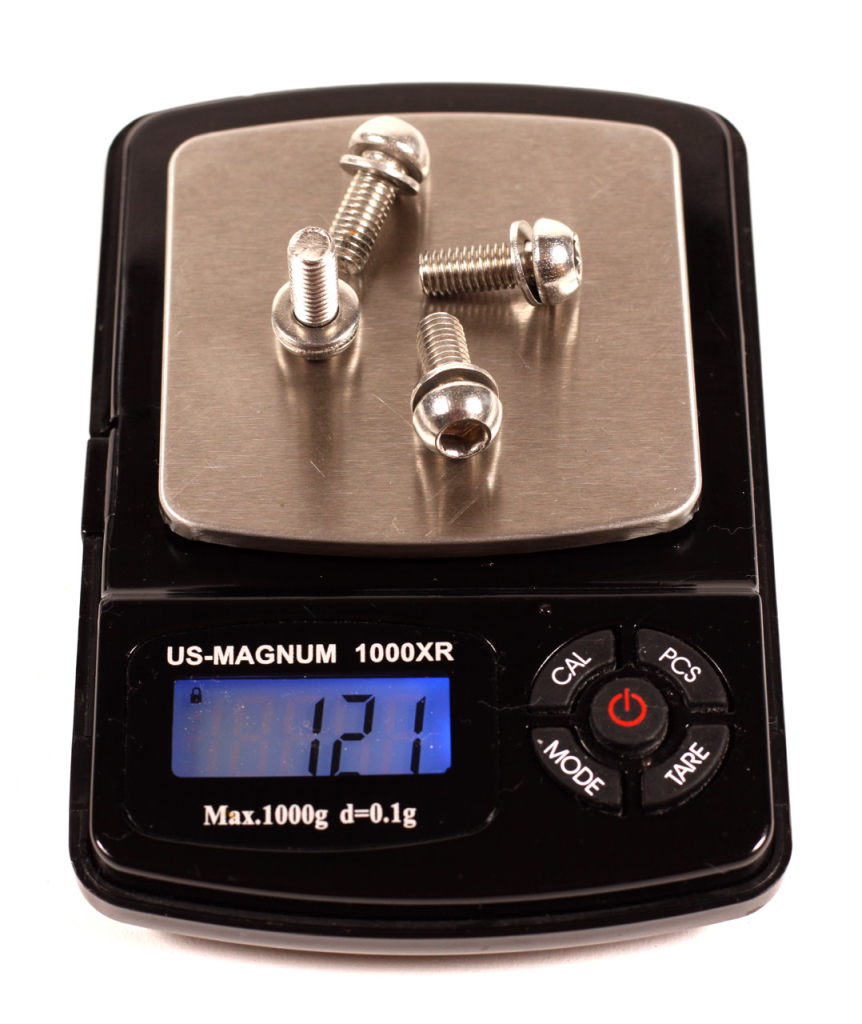 So durable and smooth with their captured washers!
UPDATED 11/11/16: changed the weights of the bolts because we forgot the decimal point.  It's hard to see, and it's not visible in these photos, but it's there!